Tine Sommer new head of the Department of Law
Professor Tine Sommer will be new head of the Department of Law for the next three years. As of 1 June 2014, she will be taking over the position from Professor Michael Steinicke, who will be returning to his professorship.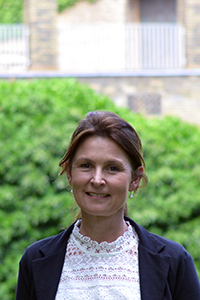 On 1 June 2014, Professor Tine Sommer will assume her duties as the new head of the Department of Law at School of Business and Social Sciences, Aarhus University. She has signed a three-year contract and will be taking leave from her professorship to dedicate herself fully to the work as head of department. The current head of department, Professor Michael Steinicke, who has held the position for the last three years, is going in the opposite direction and is returning to his position as professor at the department.
49-year-old Tine Sommer has been affiliated with the Department of Law and the former Aarhus School of Business since 1998, first as assistant professor, then associate professor, and in 2008 she was appointed professor. "I must really belong here," she concludes with a smile. Her research areas include EU law, environmental law and patent law, and last year she defended her doctoral dissertation about the interplay of patent law and biotechnological developments.
The department must advance
Tine Sommer has just returned to the department after a a ten-month leave of absence, where she was acting High Court judge at the Western High Court in Viborg. She is looking very much forward to taking on this new role as head of department, and she proceeds to account for what she will be focusing on and what she takes to be the departments greatest challenges in the coming years:
"The time has come to expand on, challenge and exploit the many powerful and skilled people we have at the Department of Law. The faculty here is incredibly competent, and we have the potential to deliver high-standard work on all parameters and live up to all that is required of us as a department and as a university. There are a lot of passionate people at the Department of Law, who are eager to contribute to the research environment – an environment that also requires there to be a sense of community among those who work here. We need to make an effort to improve the satisfaction and well-being of both faculty and staff, and we must all contribute to solving this task together," explains Tine Sommer and proceeds:
"It is my vision as head of department to get management and faculty and staff to work closer together. We are one unit, and it is through mutual engagement, cooperation and familiarity that we can become a place where employees thrive and both students and external partners feel welcome and able to learn from us – and which will allow us to maintain a prominent position and continue to contribute to society at large. I am looking so much forward to rolling up my sleeves and getting started, and I am pleased to be working with such a skilled group of employees," says Tine Sommer.
Mother of three, married to a geneticist and hooked on research policy
Tine Sommer is a mother of three children, and she is married to Brage Storstein Andresen, who is genetics professor at the University of Southern Denmark. In addition to her research and teaching, Tine Sommer's heart beats for research policy and strategic research; an interest she has cultivated through her involvement in both national and international networks, for instance as chairman of the Danish Council for Independent Research's section for political science and law and as a member of the council's executive committee.
See Tine Sommers entire resume
Further information
Head of Department from 1 June 2014, Professor Tine Sommer, LLD
Email: ts@asb.dk
Tel.: +45 8716 4964
Head of Department until 31 May 2014, Professor Michael Steinicke
Email: micst@jura.au.dk
Tel.: +45 8716 5501