Public/media
Thomas Gammeltoft-Hansen appointed honorary professor in law
He has arranged theatre plays in front of the City Hall, invited refugees to take part in his classes, and is actually a political science graduate. Now Thomas Gammeltoft-Hansen, an unorthodox and internationally recognised researcher, has been appointed honorary professor at the Department of Law in Aarhus.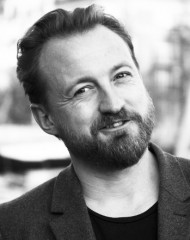 He holds an industrial PhD from the department, and now he returns to Aarhus University after seven years on the "other side". Thomas Gammeltoft-Hansen, research director at the Raoul Wallenberg Institute in Lund, has been appointed honorary professor at the Department of Law by Dean of Aarhus BSS, Thomas Pallesen.
And he returns with an impressive CV: Apart from a degree in political science, a Master's degree in refugee studies from Oxford University, Gammeltoft-Hansen has been head of research at the Department for Human Rights, visiting professor at a number of international universities, senior researcher at DIIS (Danish Institute for International Studies) and is often quoted in Danish media. His Phd dissertation about refugee law was subsequently published by Cambridge University Press, and the book won the international Idman award for best international law monography published between 2010-13. Apart from this dissertation, he has authored a long list of Danish and particularly foreign publications - most of them focusing on human rights issues.
And now he can add the title of honorary professor to his business card.
A need for gathering research forces
Thomas Gammeltoft-Hansen looks forward to returning to his "old" department and giving something back to the students. As a lecturer (and in the media), he has become known as a strong communicator and for thinking untraditionally. A good example of this was when he invited a refugee into the classroom to tell his story. Or when he took to the stage in the play "Welcome to Denmark", where the audience was forced to consider specific asylum cases.
But research-wise, he is also looking forward to joining forces with the other researchers at the department and believes that this is highly necessary:
"I hope that together we can initiate new collaborations on globalisation and human rights, e.g. in the fields of refugees and immigration. There is a real need for thinking outside the box and for combining our research competences not only in the field of law, but also in the interface between law and politics. States are increasingly demanding more room to maneuver in relation to e.g. human rights and refugee conventions, which are thus under extreme pressure and politisation," he says.
Expert in the interface between international politics and law
Professor Jens Vedsted-Hansen, who together with Gammeltoft-Hansen has authored the soon-to-be-published book "Human Rights and the Dark Side of Globalisation", is thrilled with his new colleague, who also used to be his PhD student:
Thomas takes an extremely interesting perspective on e.g. international law, human rights and asylum as well as on the international political framework that affects - and to some extent - challenges international law. He has also collaborated with a number of international experts on aspects such as sovereignty, so he can offer an interesting contribution to the research and teaching at our department," says Jens Vedsted-Hansen.
Inaugural lecture on 25 November
At the Department of Law, Thomas Gammeltoft-Hansen will be assigned to the subject group for EU Law and International Law and the research centre International and transnational tendencies in law (INTRAlaw).
He will hold an inaugural lecture on 25 November at 13:00. The title of the lecture is: "The Changing Practices of International Law: the uneasy legacy of Wolfgang Friedmann."
Everyone is welcome to attend.
Further information
Thomas Gammeltoft-Hansen
Research Director at the Raoul Wallenberg Institute of Human Rights and Humanitarian Law
E-mail: thomas.gammeltoft@rwi.lu.se
Tel.: 5020 3400